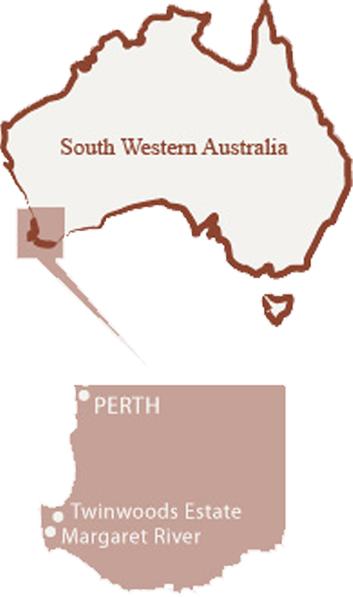 The Twinwoods Estate Vineyard is located on the south eastern catchment of Wilyabrup creek in the locality of Cowaramup. As such it is approximately 30 kilometres north of the Margaret River town-ship and in what is regarded as the prime growing area for Cabernet Sauvignon.
At Twinwoods we have 6 acres of Cabernet Sauvignon which were established in the early 1990's and 6 acres of Shiraz. We also have 9 acres of a newly planted Cabernet Vineyard as well as some more land set aside for future planting. The vineyard is managed using principles of minimal chemical inputs and we do not use any mineral fertilisers and only choose to irrigate from our own dam when conditions dictate that the vines need some supplementary water. Our focus is Cabernet Sauvignon with the production of an Estate wine, made to reflect our location and in a style which is elegant with very good palate texture and line. The wine is made in a style which allows it to be consumed while still young, but we also believe it should have the capacity to age.
Twinwoods Shiraz is planted on a portion of the vineyard which is slightly more protected and slightly cooler, this site in combination with the clones which were selected allows us to produce a more elegant style Shiraz which has pepper, clove and olive aromatics and with a soft textured palate.
The Twinwoods Chardonnay comes from vineyards planted near the township of Margaret River which is cooler and therefore better suited to the variety. The vineyard is planted to the clone known as Mendoza which is recognised as giving the most complex and complete flavour profile.
All the wine is matured in French oak Chateau Ferre barriques for 15 to 18 months, during which period it is subjected to three to four rackings. The amount of new oak used is determined by the structure of each vintage and ranges from 45 to 100%.